New Orleans Wedding with a Second Line
New Orleanians have been second lining with our brass bands as long as I can remember.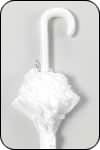 The tradition is as old as the city herself and it is a large part of our cultural heritage. The main part of a parade is the band itself which is also called the first line. During a Jazz funeral the first line plays solemn music and slowly walks to the cemetery. Upon leaving the band breaks into joyous, celebratory music celebrating the new life of the lost loved one. As people join in the celebration following behind the first line (the band), they are referred to as the second line. Second liners dance and wave either an umbrella or a handkerchief.
New Orleans weddings have adopted this tradition. As the band plays, the bride and groom strut and dance with their parasols. The bride and groom are considered the first line. Family and guests then join in by following the bride and groom strutting and dancing with handkerchiefs or napkins helping to celebrate the beginning of the couples new life.
Second Line Umbrella
New Orleans, Louisiana - Orleans Parish
Second Line Umbrellas

INFO: You can get authentic Second Line Umbrellas for all occasions from New Orleans so you can celebrate your wedding in style.
Go to: New Orleans Wedding Music for a New Orleans 2nd lining brass band.


Unique New Orleans Wedding Rides
There are several unique ways to get you and your guests "to the wedding on time" including a New Orleans Streetcar or with a horse drawn carriage ride.
RTA Streetcar Charters
New Orleans, Louisiana - Orleans Parish
Streetcar Weddings

INFO: The RTA's streetcars are charming, attractive, and timeless, so it's no surprise that groups and individuals often wish to book them for private events. Our streetcars are available for Weddings.
Streetcar Weddings
New Orleans, Louisiana - Orleans Parish
Streetcar Weddings

INFO: Streetcar Weddings will bring you your Magical Day on a charming Streetcar, in the Spectacular city of New Orleans. A truly unique wedding experience in the city of New Orleans.
Mid-City Carriages Weddings
New Orleans, Louisiana - Orleans Parish
Wedding Rentals

INFO: Our private carriage rides are perfect for any occasion and our wedding carriages will make your special day even more memorable. Whether it is a carriage for the bride and groom or the whole wedding party, we can provide exactly what you need; a carriage after the reception is the perfect getaway.
No matter how you choose to get to your special New Orleans wedding, America's most romantic city will leave you with great memories!


Mississippi Riverboat Weddings
New Orleans provides the opportunity for a very unique wedding venue, a Mississippi Riverboat ceremony on a paddle wheeler or a steamboat. You and your guests are in for a fantastic wedding experience and the greatest of memories. Float back in time with a ride on the river when steamboats 'were the rage'. Your guests will mingle in New Orleans fashion on her decks and guest rooms.
Paddlewheeler Creole Queen
New Orleans, Louisiana - Orleans Parish
Paddlewheeler Wedding

INFO: Plan a storybook wedding that you and your guests will always remember! Exchange vows on the open-air promenade deck aboard the Paddlewheeler Creole Queen. Afterwards, hold your reception in one of our elegant Victorian dining rooms.
Steamboat Natchez
New Orleans, Louisiana - Orleans Parish
Paddlewheeler Wedding

INFO: What could be more romantic than expressing your love aboard the authentic Steamboat NATCHEZ as the sun sets on the Mighty Mississippi? Let our experienced staff attend to your every need and make all of your dreams of a wonderful wedding come true.
You can't go wrong with a paddlewheeler, a steamboat or the Mighty Mississippi River as the backdrop in your wedding photos! Come to New Orleans for a Romantic Wedding and start your own New Orleans Wedding Tradition.